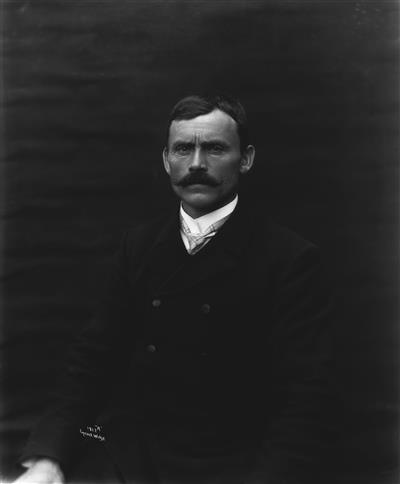 While cruising on a ship bearing his name, we thought it was appropriate to share a bit of background on Helmer Hanssen. Hanssen was born in 1870 in Norway to a farming and fishing family. At an early age, Hanssen worked with his father, hunting whales and seals, and fishing around the northern Norwegian coastline. When Hanssen was 27, he received his mate's certificate, and soon participated in his first ocean expedition with the British to Novaya Zemlya (islands to the southeast of Svalbard).
Adventurous fate soon crossed his path, as Hanssen met Roald Amundsen while they were both in Sandefjord, Norway departing on their respective expeditions (Hanssen with the British to Novaya Zemlya, Amundsen with the Belgians to Antarctica). Six years later, in 1903, Hanssen accompanied Amundsen as his mate for a three-year expedition through the Northwest Passage on the s/s Gjøa. In 1910, Hanssen also participated in Amundsen's ice plane expedition to the Antarctic, and the team reached the South Pole in December 1911.
In 1915, Hanssen received his skipper's license. Because of his previous good work, Amundsen hired Hanssen to serve as captain on the s/s Maud through the Northeast Passage in 1918-20. Throughout Hanssen expeditions up to date, he had also gained experiences in dog sledding. His sledding expertise came in handy during this expedition, after the s/s Maud was stuck in the Arctic sea ice. Hanssen led the dogs on a 1500 km journey in order to send telegrams for Amundsen. The return journey to s/s Maud took Hanssen approximately 6½ month's time, and 4000 km. Historians estimate that at the time, Hanssen's trip was a dog sledding record.
Unfortunately, the Northeast Passage expedition proved to be difficult. Amundsen's relationship with Hanssen had deteriorated, and Amundsen claimed that Hanssen became difficult to work with. As a result, Hanssen was dismissed from the middle of the expedition in Nome, Alaska, and had to work as a gold miner to earn the funds to travel back home to his wife and children.
Hanssen continued to engage in polar adventures and dog-sledding. In later years, he was offered to participate on another Antarctic expedition with Richard Byrd (an American polar adventurer), but turned it down. In later life, Hanssen received many distinctions and medals for his service in polar expeditions. Hanssen died in Tromsø, Norway in 1956.
Source: The Fram Museum
To learn more about Hanssen's life, Nordland Fylkeskommune has a great summary (in Norwegian). The Fram Museum also has a great online collection of historical polar expeditions and explorers.
-Erin Kunisch (PhD candidate, UiT)